Production information
Sumei offers various types of chemicals used in different types of textiles. Please click in to view the details.
---
Printing Paste
Sumei printing paste is deal for pigment printing on Cotton, T/C and T/R fabrics with great dispersibility and printability. This product provides excellent color fastness to wet and dry washing and crocking and gives pigment prints clear lines and vivid colors.
---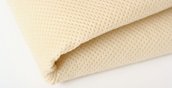 Non-Woven chemical
Sumei non-woven chemical "NW-3285" is ideal for spray-bonded, resin-bonded and collodion nonwoven fabrics. It can also be mixed with Sumei "NW-3040S" or water to achieve required softness for different types of nonwoven fabrics.
---

Electrostatic Flocking
Sumei electrostatic flocking is a type of water-based acrylic resin with great softness and elasticity. It provides excellent fastness to crocking and water and resilience. Ideal for the flocking process of clothing.
---
Resin for Shoe Tip
Sumei resin for shoe tip is safe and enviornmental-friendly. It is developed to the international standard of low formaldehyde. Ideal for shoe setting and crease-prevention.